If the legendary wooden boats of our past had kept evolving, how might they look today?
Belize could well offer some insights. We sense they may have stayed with a lower profile than many of today's offerings. Not just for beauty's sake, but because the more tall and top-heavy a boat, the more ungainly and susceptible to windage.
The trick is to have a sweet sheer line and profile without it stealing room below decks. On the Belize, the sheer remains fairly flat until gently rising toward the bow. But in this case, even good looks can be deceiving; the Belize actually delivers greater space— in the sizing of beds, heads, showers, in fact all living areas— than similar sized production counterparts.
The Belize designers have struck a keen eyed balance between European panache and Australian practicality.
The bespoke Belize brand under Riviera's wing launches a new uber luxe 66-footer Riviera has expanded its premium range of Belize boats with the addition of a new classically-styled 66 footer with 800-900hp Volvo Penta D13 engines with IPS 30 pod drives. The retro-chic boat features some engineering firsts, flexible interior layouts, and an upscaled sunken entertaining area on the bow.
Read More >>
Old world charm combined with high tech experienced boat builders has resulted in this modern boating classic.
Read More >>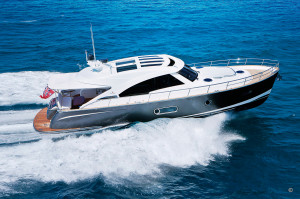 From the moment you step aboard and look around, it's evident that the 54 Sedan is a "thinking man's" boat. That is, there are so many cool features and ideas incorporated into the everyday function of this yacht that you know it had to be a seasoned team of boaters/ builders who dreamt it up
Read More >>