The M360 Sport Cruiser, made for maximum pleasure and ready for immediate delivery.
Read More >>
New to the market and located at The home of Riviera Coomera. Further details and photos to come in the coming days. Please be patient or call Steven McPherson 0421 320 395.
Read More >>
The Riviera 3600 Sport Yacht. What a fantastic model to get away on with your loved one. Diesel shaft drive & upgraded engines it is a sort after option in the Riviera 3600 Sport Yacht. Well worth an inspection or an enquiry as the owner has kept this boat in great condition and is still happily boating. They would love to see thier baby go to a good home and be cared for the way they have. Please call Troy Hughes on 0417 006093 or email th@rmarinejones.com.au for further information regarding this vessel.
Read More >>
This late model Riviera 4700 Sport Yacht is a great example of single level entertaining. From the cockpit lounge through to the helm station, everyone is on one level, made possible because of the large glass hopper window and glass opening door, a great design to keep everyone on the same together.
Read More >>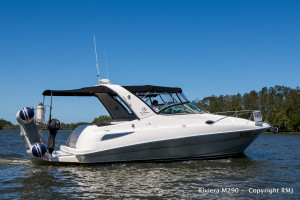 Riviera M290 is great for any occassion to get out on the water to camp the weekend or just a day trip. Great size for the family!
Read More >>
Exclusively for sale with RMJ, the sales office based at the Riviera facility.
Read More >>
RMJ are very proud to present exclusively, this 2011 Riviera 5800 Sport Yacht, on our sales marina here at the Riviera complex in Coomera.
Read More >>
Ready for immediate delivery out of the home of Riviera Coomera. If you are looking for an all round sports boat that will give the versatility to go fishing, cruising, entertaining or just out soaking in the rays and a few drinks this boat will have you doing it with ease and in comfort.
Read More >>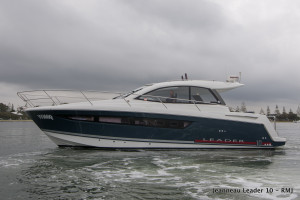 Jeanneau Leader 10 is an exceptionaly pleasing design on the eye. It is bright & spacious to walk into. A nice afternoon with the sunroof open and some music playing as the sun goes down is not something every boat will allow you to do. If you have your eyes set on a Riviera 3600 Sport Cruiser or a Riviera M400, M360 sport cruiser. This boat will surprise you with similar features and functionality.
Read More >>