The M360 Sport Cruiser, made for maximum pleasure and ready for immediate delivery.
Read More >>
The Riviera 3600 Sport Yacht. What a fantastic model to get away on with your loved one. Diesel shaft drive & upgraded engines it is a sort after option in the Riviera 3600 Sport Yacht. Well worth an inspection or an enquiry as the owner has kept this boat in great condition and is still happily boating. They would love to see thier baby go to a good home and be cared for the way they have. Please call Troy Hughes on 0417 006093 or email th@rmarinejones.com.au for further information regarding this vessel.
Read More >>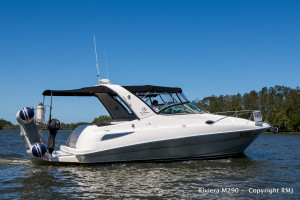 Riviera M290 is great for any occassion to get out on the water to camp the weekend or just a day trip. Great size for the family!
Read More >>
RMJ are very proud to present exclusively, this 2011 Riviera 5800 Sport Yacht, on our sales marina here at the Riviera complex in Coomera.
Read More >>
Ready for immediate delivery out of the home of Riviera Coomera. If you are looking for an all round sports boat that will give the versatility to go fishing, cruising, entertaining or just out soaking in the rays and a few drinks this boat will have you doing it with ease and in comfort.
Read More >>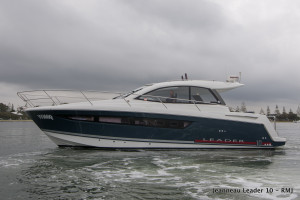 Jeanneau Leader 10 is an exceptionaly pleasing design on the eye. It is bright & spacious to walk into. A nice afternoon with the sunroof open and some music playing as the sun goes down is not something every boat will allow you to do. If you have your eyes set on a Riviera 3600 Sport Cruiser or a Riviera M400, M360 sport cruiser. This boat will surprise you with similar features and functionality.
Read More >>
This Riviera 4400 Sport Yacht has been a local boat to the Gold Coast since New. The boat has been cared for like no other, it presents in great condition, not to mention priced well It is one you will want to look over. With twin Volvo IPS this boat can put any where at any time with the ease of joystick when berthing or anchoring. The large cockpit lounge across the rear it is made to hold any social event of family weekend away. This is a great model to escape on the east coast to enjoy and explore the wonders of the ocean.
Read More >>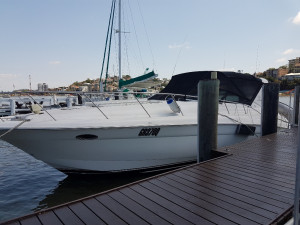 Late model Riviera M370 Sport Cruiser with 8.1L Mercruiser. These come by every now and then and never last long. A very sort after model with electronic controlls and smart craft Contact Troy Hughes for further information regarding this vessel.
Read More >>
Riviera's evolution of the top selling Riviera 40 Flybridge!
Read More >>