The new Riviera SUV range are crossover boats that provide the one level living , aft galley and lower helm of a sport yacht, but with a big open cockpit, spacious saloon and proven sea-keeping ability of a fly bridge. A versatile vessel like no other,  there is no wonder the Riviera SUV range has been so popular since their introduction. Cruising, fishing and entertaining with a Riviera SUV, 45-57ft
Riviera SUV
The SUV concept demands a generous cockpit, low to the water to maximise the action and adventure of the full spectrum of water sports. And that's what the cockpit of the 505 delivers.
Read More >>
An entirely new class of luxury motor yacht: in effect, two yachts in one. The blue-water performance and open cockpit of our Flybridge Collection, melded with the entertaining and cruising style of our renowned Sport Yachts.
Read More >>
The new 395 SUV, the first sub 40 Foot new model from Riviera in a decade has the boating world abuzz.
Read More >>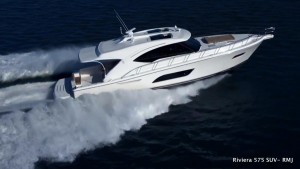 The leading edge design of the 575 SUV takes Riviera's SUV range into a new era of flexibility. Choose between Shaft or POD drive to suit your lifetsyle and locale.
Read More >>
Riviera has found the perfect formula to enter a new era of affordable boating. Highlights include its versatility and its unashamed appeal to any family whose primary vehicle is an SUV … regardless of whether it's a Porsche or a Prado.
Read More >>